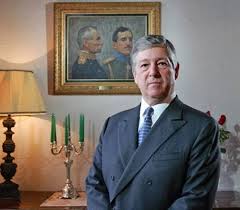 Crown Prince Alexander attends General Mihailovic rehabilitation hearing
Belgrade, 3 April 2015 – His Royal Highness Crown Prince Alexander attended the judicial rehabilitation of General Dragoljub  Mihailovic hearing at the Palace of Justice today.
"Just as he was the first to resist German occupation, General Mihailovic was the first to fight against the brutal communist dictatorship. The process of his legal rehabilitation began in 2006 and I sincerely hope it is going to be finalized very soon. National reconciliation may rest only on truth, correction of injustice, and forgiving. Our country needs more unity, fairness, and justice for all. Let us pray for all those who lost their lives on all sides!" – said Crown Prince Alexander.
On this occasion, we remind the public that the exhibition "General Mihailovic – The First Freedom fighter in Nazi-occupied Europe" by Dusan Babac can be seen the White Palace until April 6, 2015 between 10:00 am and 5:00 pm. The exhibition can be visited with the mandatory notification at the latest the day before the visit by phone 011 306 4000 or by e-mail kancelarija@dvor.rs. Admission is free.
http://www.generalmihailovich.com/2015/04/prestolonaslednik-aleksandar.html